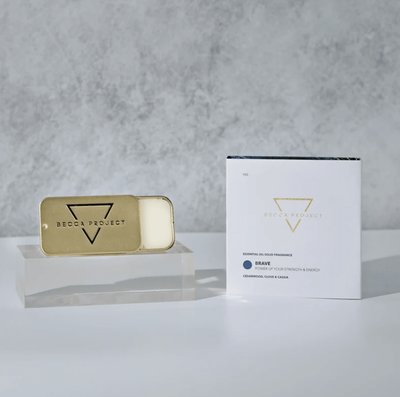 Becca Project Solid Fragrance Balm
Becca Project
$42.00
or 4 interest free payments of $10.50 with
learn more
Becca Project solid perfume balms are hand-made in NZ, using the purest essential oils, and not nasty chemicals. Unlike other perfumes, Becca Balms will not fill the room with scent, but are intimate and charming. You are the one who will reap the benefits of our solid perfume, not the room.
BRAVE
A robust blend of clove, blue musk and exotic wood that leaves you feeling strong and powerful. With the addition of cassia and cinnamon bark, this masculine balm energises and aids metabolic and immune function while promoting respiratory healing and healthy digestion.

Apply this invigorating blend of CEDARWOOD, CLOVE & CASSIA to your pulse points throughout the day to help give you feel revitalised.

ENVY
This uplifting fusion of citrus, vetiver and pepper will leave you feeling strong, energised and free-spirited. Balanced with a hint of salty ocean air, this masculine blend fosters a sense of beachy calm.

Apply this uplifting fusion of BERGAMOT, VETIVER, LIME & PEPPER to your pulse points throughout the day.

GIGGLE
Lighten up and get your Giggle on with this uplifting blend of mandarin, tangerine and lemon. Clary sage and jasmine add to the calm sense of happiness and the mimosa scent creates a real "happy hour" feel.

Apply this floral, zesty blend of ORANGE, MANDARIN, TANGERINE, CLARY SAGE, JASMINE, LEMON, LAVENDER, FRANKINCENSE, ROSE & VANILLA to your pulse points throughout the day for a truly uplifting vibe.

STELLAR
Say goodbye to stress and anxiety with Stellar's relaxing blend of ylang ylang, sweet orange and pink grapefruit. The floral and feminine scent of this star performer is guaranteed to brighten your soul.

Apply this femine, floral blend of ROSE OTTO, PINK GRAPEFRUIT, YLANG YLANG, SANDALWOOD, BERGAMOT, ORANGE, PATCHOULI & GERANIUM to your pulse points throughout the day to help lighten your mood.

WONDER
This restorative Wonder blend is a beautiful awakener that will help you rise and shine. Mixing the healing qualities of rose otto, ylang ylang and geranium with the mood enhancing benefits of sweet orange and a refreshing mix of lime and basil, it's the perfect way to feel grateful and alive.

Apply this zesty, uplifting blend of YLANG YLANG, BERGAMOT, GERANIUM, LIME, BASIL, MANDARIN, THYME, ROSE OTTO, JASMINE, ORANGE & PATCHOULI to your pulse points throughout the day.

SKU: 23035